With physical events coming back after COVID, INVEST Fair 2022 by ShareInvestor is also back with their physical event on 27 August 2022 at Suntec Exhibition Hall 404. It is good to have such physical events where we can immerse ourselves with all the knowledge we can get and concentrate on what the speakers have to say. It is still quite different from virtual talks where we often get distracted at home.
I enjoy physical seminars as I really can concentrate and focus my attention for that few hours when I'm there. I've tried attending virtual seminars and it is definitely not the same experience. INVEST Fair is one of the few events which I like to attend and another of my favourite is the REITs Symposium. Both have good speakers which I can learn from even at this stage of investing for more than 10 years now.
This is the 15th year that INVEST Fair has been held. I remembered I attended my first INVEST Fair back when I first started investing in my early 20s probably 12 years ago. Looking back, INVEST Fair was fairly new back then.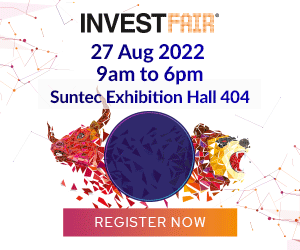 Highlights of INVEST Fair 2022
For this year, INVEST Fair will focus on 3 special features:
Public Listed Companies Engagement
Insights from industry veterans
Different investing strategies
Property Investing
There are many topics to choose from ranging from macroeconomics to investing and trading. There is even a talk on property where the head of research of Knight Frank Singapore will share about the wealth report and luxury homes in Singapore. With property prices at sky high prices now, will property prices continue to rise? In the area of luxury homes, will we see more of such properties due to the rise in high net worth individuals? It is interesting to note that the number of global Ultra High Net Worth Individuals grew by 9.3% in 2021, up from 2.4% in 2020 and Singapore is predicted to witness a 268% growth in its Ultra High Net Worth Individuals (UHNWIs) population to around 6,000 individuals by 2026.
Stocks Investing
In the area of investing, its not been an easy time for most investors as stock prices come down and investors are seeing losses in their investment portfolio. Topics such as "Picking Winning Shares For All Economic Conditions" by David Kuo, Co-Founder of The Smart Investor will be interesting for investors who want to know how to navigate the impact of rising inflation and interest rates on our investments. During the past many years, we've enjoyed falling interest rates and surging government spend where this propelled property and bond prices alike. That was the era of "free" or easy money where we had multiple rounds of quantitative easing (QE) which is essentially the printing of more money and low interest rates enabled ordinary people to borrow more money. The head of research of Phillip Securities research will share on "Investing in inflationary times" where he will focus on the macro framework for investors to pivot to.
There will also be a panel discussion on "Investing in Uncertain Times" where this would be interesting to know from experts on how to invest under the current economic conditions. There are many other topics on stocks investing which you can check out on INVEST Fair 2022 website
here
.
Stocks/Options Trading
Finally, there are also topics on options trading where the Chief Investment Officer of Tiger Brokers Singapore will share on "Options Investment Strategy".
Shanison Lin, Founder & CEO of InvestingNote will also share on the topic of "Level Up Your Experience in Trading" where we can learn some trading tips from him if you're a trader or interested to learn about trading.
Register for Free for INVEST Fair 2022
The list of speakers and topics are still in the progress of finalization and there will be more added closer to date. This event is free for all to attend and you may register
here
on their website.
Event details:
27 Aug 2022 9am to 6pm
Suntec Exhibition Hall 404
This post is sponsored by ShareInvestor but all views are of my own